October 18, 2016: JOTA 2016
The JOTA 2016 is over. We ranked 9th in the JOTAcross game. I still have to count the QSOs, but it was a pretty low number.
We did have some nice ATV QSOs, although the other two groups that were visible did not have the audio enabled, so they did not hear us.
A new type of tower was tried and it was a success. We did break one pole, but the rest survived, including the rope holding the tower during hoisting.
We streamed the three days live to YouTube and were on ATV on Saturday and Sunday.
Unfortunately, the EME contact we scheduled did not work out because the volunteers at the 25m radio telescope CAMRAS in Dwingeloo went home at midnight, and I only became QRV around 01:30.
August 21, 2016: ILLW – Saturday stream and some pics
August 2, 2016: Colloquium is now over – I was awarded the G5RV cup!
The colloquium was a great success, and apart from meeting old an new friends, there were also some highlights to the trip.
First of all, the ARISS-UK team presented me with a team polo shirt at the colloquium, A principia mission patch and a pin badge. The same evening, the whole ARISS-UK team was awarded the G3AAJ Trophy.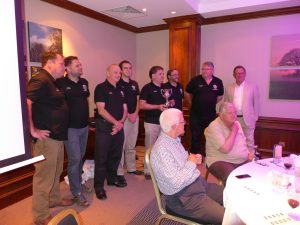 On top of that, I have received the Louis Varney (G5RV) Cup for advances in space communication.
I am very grateful to be awarded this cup, and this stimulates me to continue working on AMSAT satellites.
We gave a presentation for ISIS at the colloquium, and got a big thumbs up from the audience.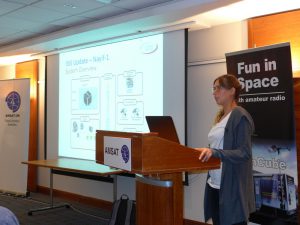 Having arrived safely back at home with all equipment, I am currently editing all the video that was recorded during the weekend, and publishing this on the AMSAT-Uk YouTube and my own YouTube channel
July 31, 2016: Satellite demo video online!
July 31, 2016: Streaming live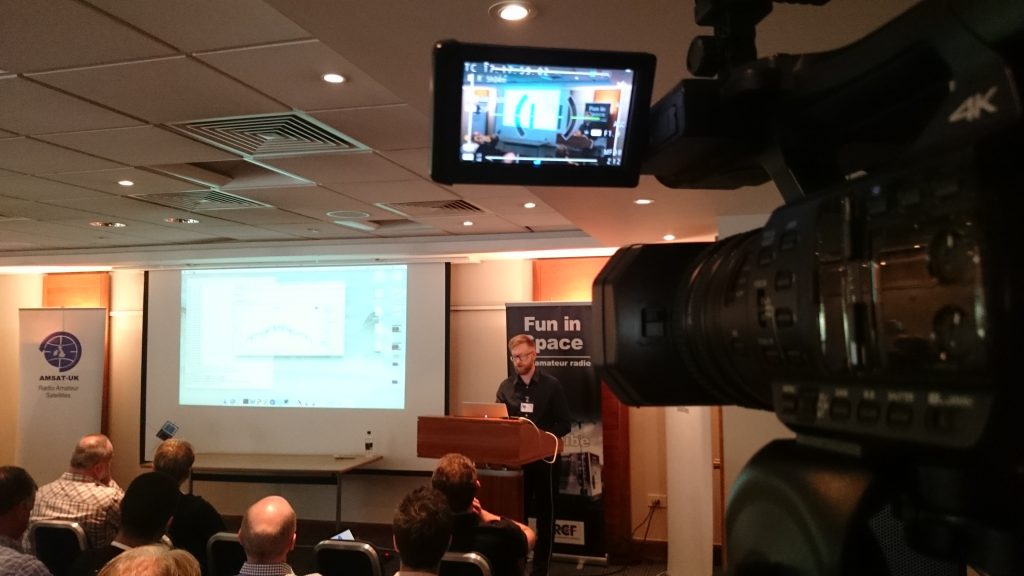 July 29, 2016: On my way to the AMSAT-UK colloquium!
I am traveling to the AMSAT-UK International Space Colloquium, held this weekend in Guildford, UK.
There will be live streaming of the presentations at https://beta.batc.tv/live/amsatuk
The Live Stream will start Saturday at 09:15 UTC
Apart from meeting many friends and representing AMSAT-NL and ISISpace, I will also be driving some of the streaming gear, doing video production and filming with the volunteers of the BATC.
See you on the stream chat!
June 15, 2016: possible DATV first on 70cm – PA to G
This weekend I attempted a D-ATV QSO with Noel G8GTZ in the UK. We were already planning this for a while, but the International ATV Contest came around. This seemed to be a great opportunity to try.
Noel reported he drove out to Fairlight near Hastings, UK.
I went to the TU Delft, and hooked up all equipment.
We attempted a two way QSO, but Noel only managed to receive me. His signal was too weak for me to decode unfortunately.
Noel posted
"With much patience from Wouter (PA3WEG), I received pictures from him at Delft University (286 Km) 1ms DATV on 437 MHz but he could not see me due to a 10 dB power difference – a couple of people have asked if this is the first direct PA to G DATV reception not via a repeater – anyone know any different?"
Thanks to Noel for his patience and driving to the coast!
May 28, 2016: Having FUN behind the mixing console
Mixing my band "The Unlisted" at the opening of Broekerveiling Shopping Centre.
May 16, 2016: veron Pinkster kamp
The 51st VERON Pinkster Kamp (VPK) radio camp is over, I had a blast!
Audio visual material to follow!
pictures
May 5, 2016: ARISS – Tim peake – Ashfield Primary School, Otley, West Yorkshire, UK
April 25, 2016: ARISS – Tim Peake – Derby High School, Bury, UK
April 23, 2016: DATV on 70cm
April 23, 2016: ARISS – Tim Peake – Wellesley House School, Broadstairs, Kent
April 18, 2016: ARISS – Tim Peake – St Richard's Catholic College
April 16, 2016: DATV on 70cm and other activities
I have constructed the MiniTiouner by F6DZP, and combined the PCB with an analog receiver.
Now I have a device that can receive both analog and digital ATV at the same time.
using a converter sold by the BATC, the SUP-2400, I can receive 70cm DATV that I am transmitting using the DTX-1. Also, the linear amplifier rack that I built for the DARE Stratos-II flight termination system has been repurposed for amplifying 70cm DATV. If the Stratos project needs to borrow my FTS rack again, I can easily take it out.
Next step: receive ISS with this receiver and the 2 or 3m dish.


Show older content